One time at church a young girl, she is twelve, approached me. She said, "I really like your scarf. It looks nice on you. It's nice." I smiled and thanked her for the compliment. A Few weeks later, I saw her at church. She was wearing a hat. Her mother doesn't practice head covering. Her father is a deacon at my current church. He views head covering matter as a personal choice. Unfortunately, I didn't have the opportunity to talk to her about the head covering.
I have noticed something interesting, children observe other adults during church services before they go to Sunday School. They take notice of many things. Several times I noticed how children look at my head covering
—curiously. The children never asked me questions. I don't know what their parents said to them. To be fair, I never had a negative head covering experience in my church. I had one negative experience. A woman from a different church blamed me for being legalistic. She also told me that I would make a great pastor. When I tried to tell her about the role of men and women at church she started swearing at me. Today we don't communicate. It's for a different reason. I have been practicing head covering for over five years.
A couple of months ago our church had an informal service. I and my best friend were the only ones wearing a head covering. I have noticed a girl, who is 3 or maybe 4 years old, she grabbed a hat from her dad's hand and put it on her head.
Unfortunately, many churches divided services based on age groups. Bible says clearly that it's the parents' responsibility to teach the Bible. Many families put that responsibility of the church. As a result, their faith is not strong. Many people read Bible during Sunday services, but not during the week.
Some children's programs become more of entertainment for the next generation of people. They have a lot of entertainment, but not much Bible. Paul never said that children should be separated from their parents at church. When Israel gathered in from of the prophets to hear the proclamation it was the entire nation.
I believe that everyone can have a role of a parental figure, but we are not parents. Jesus told his disciples not to prevent children from coming to him.
But Jesus said, "Let the children come to me. Don't stop them! For the Kingdom of Heaven belongs to those who are like these children." Matthew 19:14
I know someone who is not a Christian. A few years ago I had a chance to share the gospel with her youngest daughter. Today, this girl is the part of a Bible Club in my church. I am glad that she gets to hear the Word. I don't know what the Lord has for her, but I am glad that she has a Christian friend. The heart of God has a special place for children and we have a part in that.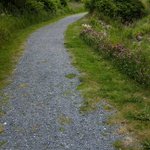 Enter the narrow way